We're hiring
IIT Academy Teacher (multiple positions)
-
(Application deadline: July 22, 2018)
The IIT Academy is pleased to advertise for three full-time teaching positions at its elementary Islamic school in Toronto, Ontario. These positions require Ontario Certified Teachers who have a passion for education and are willing to dedicate themselves to nurturing young minds with values that are critical to the development of Islamic identity and civic responsibility. →
Get details & apply
---
Fatwa session with Shaikh Ahmad Kutty:
July 19
General Fatwa Session
---
Summer camp:
Jul. 3 - Aug. 10
Six weeks of learning, fun & creativity! In addition to arts & crafts, recreational & outdoor activities, and field trips, the program offers engaging Islamic activities. Our facilities at the IIT, with a huge gymnasium and playing field, prayer facilities and classrooms are ideal for a program of this nature.
→ Get more details
---
Summer Quran camp:
Jul. 3 - Aug. 10
Want something really beneficial for your kids to do this summer? Only two hours of their time - from 3:30-5 pm, right after summer camp register before spaces fill up.
NOTE: this program is free for our summer camp participants!
No camp on Jul. 2, Aug. 6
---
Summer Youth Leadership Camp:
Jul. 3 - Aug. 10
The Summer Youth Leadership Camp (ages 13-15) provides an enriched experience for students who wish to develop important life skills in a fun and engaging environment. Based on weekly registration, the Camp will offer basic Islamic instruction, Qur'an recitation skills, project-oriented experience through small community initiatives. Students will also be engaged in sports, visual arts, technology skills and field trips.
Registration will be capped at 50 participants. Register early to avoid disappointment.
---
Podcasts
Make sure you receive our lectures, videos, and audio interviews via our podcast: PC, Android, iOS
(or visit iit.podbean.com)
---
Your donation matters!
Where does the money go?
Check out our latest infographic
showing our expenditures and charitable distribution of Zakaat, Zakaatul Fitr and Sadaqa.
---
IIT Ball Hockey League - Registration for new season begins Sunday July 22
NEW PLAYERS:
To be contacted as soon as registration begins on July 22,
email Khalid
now to get added to the contact list. This is your best chance to get in. The new season goes from September 2018 to March 2019 and we play on Friday nights starting at 8 PM. Boys 6-16 years of all skill levels accepted.
SPONSORS:
The IIBHL is a totally non-profit community league run entirely by volunteers. If you would like to sponsor us or donate, please
email Khalid
to find out how.
VOLUNTEERS:
Coaches, referees, scorekeepers and timekeepers needed for the upcoming season. Training provided. Ideal for high school students looking for volunteer hours or parents with kids playing in the league.
---
Children's evening madrassa:
weekdays, 5:30 pm
A special children's evening class in Qur'anic recitation and Islamic studies. It runs for the entire school year and follows a standard school calendar. Teachers include Hafiz Hassan Mohamed, Ibrahim Farook and others, and is managed by Imam Kamruzzaman.
Children between the ages of 5-14 are eligible - $30 per month per child.
Registration done at IIT
---
YouTube: we're regularly uploading new videos!
Visit our
YouTube channel
- subscribe and share our trailers & lectures with your friends and families.
Subscribe to our channel and receive notifications for new content!
---
Islamic counselling with IIT scholars
Shaikh Ahmad Kutty:
Tuesdays 10 am - 12 pm - preferably by appointment at
consultation@islam.ca
Shaikh Musleh Khan:
Tuesdays & Thursdays 4-7 pm - preferably by appointment at
consultation@islam.ca
Shaikh Abdool Hamid:
Mondays & Wednesdays 4-7 pm - preferably by appointment at
consultation@islam.ca
Dr. Abdullah Hakim Quick:
Tuesdays & Wednesdays 3-7 pm - preferably by appointment at
consultation@islam.ca
---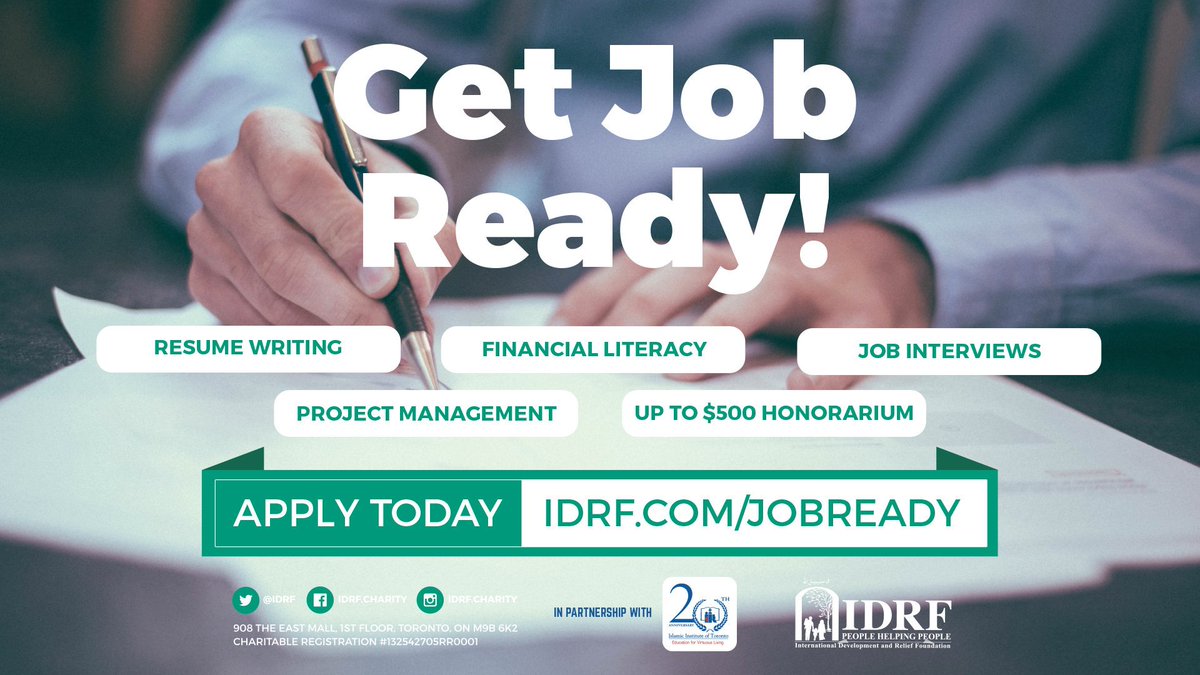 Get job ready!
Finding your first job is often difficult!! Young people in Canada frequently encounter the 'No Experience, No Job' predicament where they may have an education and tremendous potential, but are often turned away by prospective employers due to a lack of work experience.
This initiative will teach you how to navigate the job market and develop the practical tools vital to securing employment.
---
Essentials of Living The Path - Tips For Living an Examined Life
(Shaikh Ahmad Kutty)
Reflecting the ethical and spiritual vision of Islam - a concise view of the Islamic belief and practices
---
Confronting Islamophobia and racism
All praises are due to Allah, Lord of the worlds and may the peace and blessings of Allah be constantly showered upon our Beloved Prophet Muhammad forever.
As we move further into the 21st Century, the tensions and crises of the world are increasing by the day. Muslims, in the past, have always looked to the guidance of their Lord and the methodology of the Last Prophet Muhammad (pbuh) to bring light in the time of darkness.
Continued...
---
→ Sign-up today!
500 monthly donors
Let IIT be part of your income!
Yes, when you donate to IIT, you will be rewarded for it in the hereafter, and your wealth is purified in this world.
Be part of our 500 monthly donor drive - sign-up today
!
---
IIT Academy
The IIT Academy is a registered private school with the Ontario Ministry of Education, and offers the full Ontario curriculum (JK - grade 8), as well as Islamic Studies, Arabic Language, Qur'an Recitation and French.
---
Library
We are in the process of setting up a community library to be located on the south side of building, on the second floor. A reading room is attached to the library and can be accessed via sliding doors connecting the two spaces.
---
Donate now
Support the IIT's objective to promote Islamic knowledge through education and training
---
Campus Project
Booklet
•
Brochure
•
Poster