---
IIT Web Re-Design Questionnaire and Town Hall Meetings
The IIT's website has been serving us for almost 20 years - the IIT's Board has now embarked on a project to revamp the website to better serve the community's needs.
We are seeking the community's feedback so that we can plan and try to accommodate any requests.
Please fill out and submit the on-line questionnaire
.
In addition, we have planned a number of in-person town hall meetings to solicit your feedback.
Sessions will be conducted on the following dates - please plan to attend one
:
1. Tuesday, April 3: 3:30 pm - 4 pm (IIT Academy)
2. Wednesday, April 4: 6 pm - 7 pm
3. Thursday, April 5: 8 pm - 8:30 pm
4. Friday, April 6: 8 pm - 9 pm
5. Sunday, April 8: 11:30 am - 12 pm
---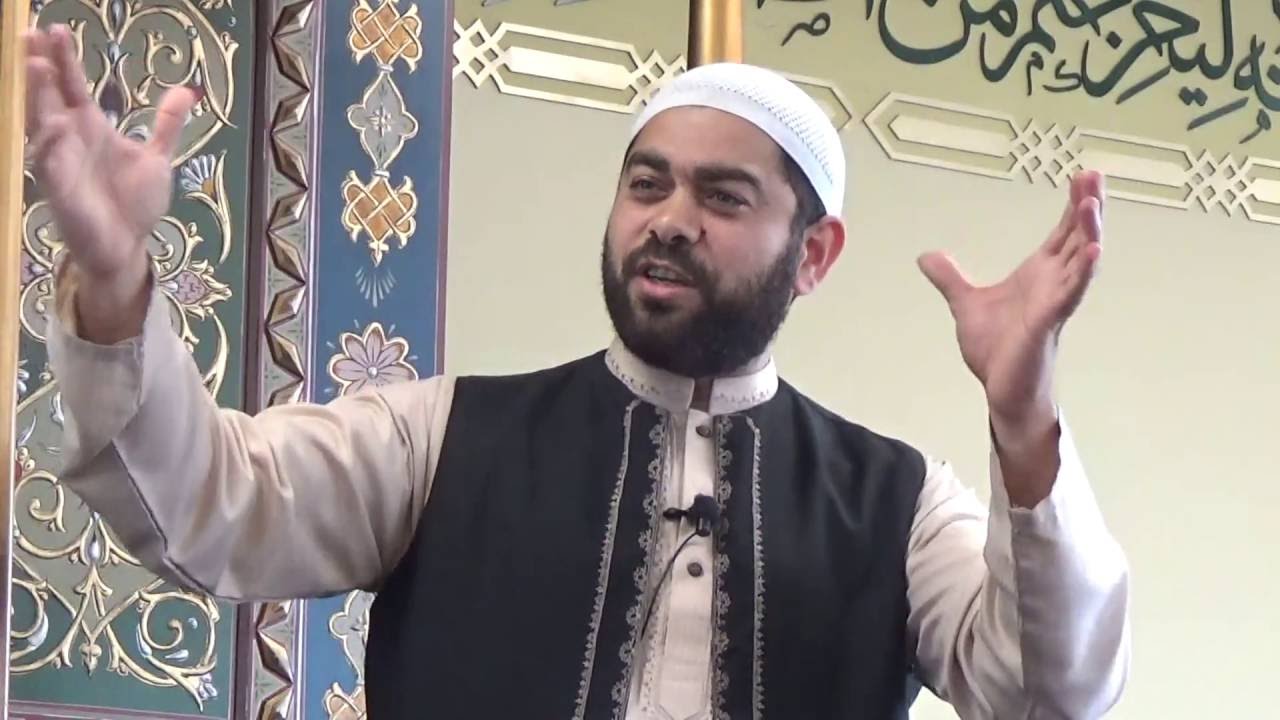 Dr. Mustafa Khattab - khateeb:
Mar. 30, 1:30 pm
Imam of the Anatolia Islamic Centre
and Muslim Chaplain at Brock University, Dr. Khattab received his Ph.D., M.A., & B.A. in Islamic Studies in English with Honours from Al-Azhar University. He is a member of the Canadian Council of Imams, a lecturer of Islamic Studies in English at Al-Azhar University, and a Fulbright interfaith scholar. He has served as an Imam in the U.S.A. and Canada since 2007 and is a published author.
His most celebrated work is The Clear Quran: A Thematic English Translation
.
---
Hajj registration is open!
Act quickly if you wish to go
-
registration ends on April 15, or as soon as all spots are gone.
---
Preparing for Ramadan
Ramadan is one of the most important times in the life of a Muslim. It is a month of fasting, generosity, spirituality and good deeds. How will you prepare for it? Join us in this special 6 week course to explore the importance, blessings, rituals and rules pertaining to fasting, zakaat, Qiyaam, Lailatul Qadr and Eid al Fitr.
---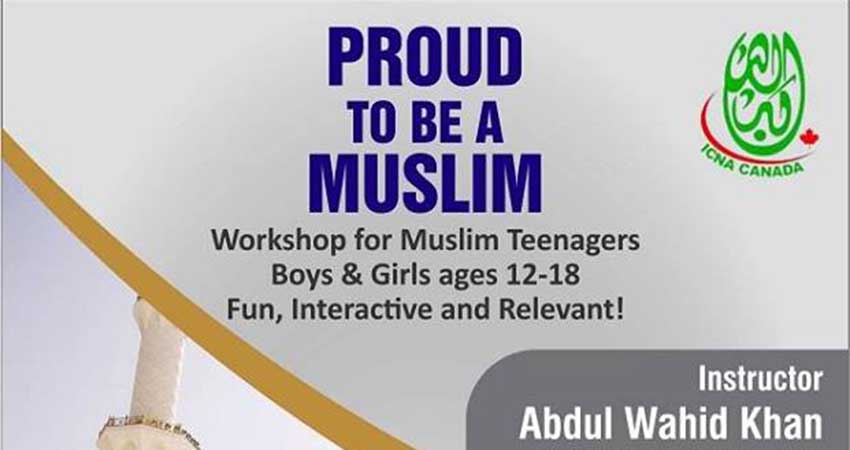 Proud to be a Muslim:
Mar. 24 & 25, 12-5 pm
This is a popular program, designed for interactive youth participation.
The instructor, Abdul Wahid Khan, was raised in Toronto - he studied Social Work at Sheridan College and York University and has worked for several years in the private and public field as a practising Social Worker. He has a strong passion for working with youth, guiding and getting youth excited about practising their faith.
---
Conservatives will recognize Jerusalem as Israel's capital if elected
Conservative Leader Andrew Scheer says if his party forms government in 2019, it will follow Trump's lead and recognize Jerusalem as the capital of Israel.
Scheer's declaration comes in the form of a pledge posted to the Conservative party website designed to gather signatures from members of the public.
"Canada's Conservatives led by Andrew Scheer will recognize Jerusalem as Israel's capital when we form government in 2019," the pledge says, describing the party as "a strong voice for Israel and the Canadian Jewish community."
Continued...
---
Conservative advisor helped create anti-Islam organization
A senior member of Andrew Scheer's leadership team helped create an anti-Islam organization during his campaign to lead the Conservative Party. Now, that organization is holding events to protest anti-Islamophobia Motion 103 and is bringing together Canada's anti-Islam pundits and anti-Muslim groups.
Georganne Burke, the Scheer campaign's Outreach Chair, was involved in the founding of Canadian Citizens for Charter Rights and Freedoms (C3RF). The group warns that the Liberal government is criminalizing criticism of Islam and opening the door for a Sharia (Islamic) takeover of Canadian law. C3RF plans to hold events across the country to advocate against M103 and the Trudeau government.
Continued...
---
Winter Semester
We are excited to be offering courses such as:
•
Self-Care: The Prophetic Approach
with
Shaikh Ahmad Kutty
•
Vocabulary of the Qur'an
with
Shaikh Abdool Hamid
•
Miracles of the Qur'an
with
Shaikh Abdullah Hakim Quick
•
A Thematic Journey Through The Qur'an
with
Shaikh Musleh Khan
•
Tajweed for Beginners
with Julie Lowe
Plus continuing classes in Arabic language, youth classes, and more!
If you don't receive e-mail confirmation shortly after registration, please check your junk/spam folder.
---
IIT Ball Hockey League Awards Banquet - tickets going fast for April 28 event
Get your tickets before Playoffs are over or you will have to make a special trip to IIT just to get them if your team is eliminated.
Dinner is
FREE
for all players, volunteers and children under 6. Family and friends, tickets are $10 each and will be on sale every Friday night at IIT.
E-mail Khalid
or call him at 416-894-5758 to reserve your tickets now. See
flyer
for all the details.
NEW PLAYERS:
If you're new, of any skill level, 6-16 years old, and want to be contacted as soon as registration begins in August, please
e-mail Khalid
or call him at 416-894-5758 to get added to the contact list.
---
Summer camp:
Jul. 2 - Aug. 10
Six weeks of learning, fun & creativity!
→
Registration, job applications, program details & cost will all be posted at the end of May!
---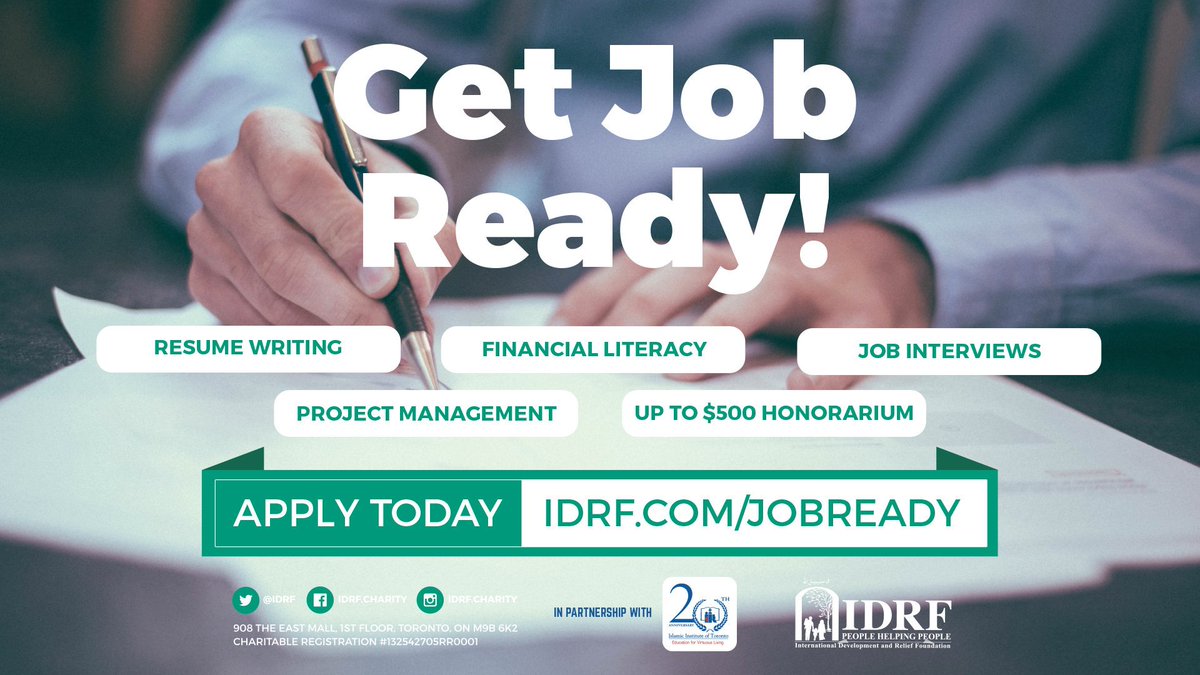 Get job ready!
Finding your first job is often difficult!! Young people in Canada frequently encounter the 'No Experience, No Job' predicament where they may have an education and tremendous potential, but are often turned away by prospective employers due to a lack of work experience.
This initiative will teach you how to navigate the job market and develop the practical tools vital to securing employment.
---
Essentials of Living The Path - Tips For Living an Examined Life
(Shaikh Ahmad Kutty)
Reflecting the ethical and spiritual vision of Islam - a concise view of the Islamic belief and practices
---
Children's evening madrassa:
weekdays, 5:30 pm
A special children's evening class in Qur'anic recitation and Islamic studies. It runs for the entire school year and follows a standard school calendar. Teachers include Hafiz Hassan Mohamed, Ibrahim Farook and others, and is managed by Imam Kamruzzaman.
Children between the ages of 5-14 are eligible - $30 per month per child.
Registration done at IIT
---
Khutbah archive
For khutbah recordings & more, search for 'IIT' on iTunes and subscribe to our podcasts or visit iit.podbean.com
---
YouTube: we're regularly uploading new videos!
Visit our
YouTube channel
- subscribe and share our trailers & lectures with your friends and families.
Subscribe to our channel and receive notifications for new content!
---
Islamic counselling with IIT scholars
Shaikh Ahmad Kutty:
Tuesdays 10 am - 12 pm - preferably by appointment at
consultation@islam.ca
Shaikh Musleh Khan:
Tuesdays & Thursdays 4-7 pm - preferably by appointment at
consultation@islam.ca
Shaikh Abdool Hamid:
Mondays & Wednesdays 4-7 pm - preferably by appointment at
consultation@islam.ca
Dr. Abdullah Hakim Quick:
Tuesdays & Wednesdays 3-7 pm - preferably by appointment at
consultation@islam.ca
---
Confronting Islamophobia and racism
All praises are due to Allah, Lord of the worlds and may the peace and blessings of Allah be constantly showered upon our Beloved Prophet Muhammad forever.
As we move further into the 21st Century, the tensions and crises of the world are increasing by the day. Muslims, in the past, have always looked to the guidance of their Lord and the methodology of the Last Prophet Muhammad (pbuh) to bring light in the time of darkness.
Continued...
---
→ Sign-up today!
500 monthly donors
Let IIT be part of your income!
Yes, when you donate to IIT, you will be rewarded for it in the hereafter, and your wealth is purified in this world.
Be part of our 500 monthly donor drive - sign-up today
!
---
IIT Academy
The IIT Academy is a registered private school with the Ontario Ministry of Education, and offers the full Ontario curriculum (JK - grade 8), as well as Islamic Studies, Arabic Language, Qur'an Recitation and French.
---
Library
We are in the process of setting up a community library to be located on the south side of building, on the second floor. A reading room is attached to the library and can be accessed via sliding doors connecting the two spaces.
---
Donate now
Support the IIT's objective to promote Islamic knowledge through education and training
---
Campus Project
Booklet
•
Brochure
•
Poster