---
Inna lilla he wa inna elaihe rajioun
It is with profound sadness that we announce the passing of our dear sister, Sakinabai Ahmed Yakub earlier today. She was the mother of brother Osman Yakub, former Board Member of the IIT.
Janaazah:
Jan. 21, 1 pm at
the Islamic Foundation of Toronto
Burial:
After janaazah, at
Beechwood Cemetery
May Allah multiply her good deeds, forgive her sins and accept her into Paradise. May Allah bring comfort to her family and loved ones
---
Winter Semester
We are excited to be offering courses such as:
•
Self-Care: The Prophetic Approach
with
Shaikh Ahmad Kutty
•
Vocabulary of the Qur'an
with
Shaikh Abdool Hamid
•
Miracles of the Qur'an
with
Shaikh Abdullah Hakim Quick
•
A Thematic Journey Through The Qur'an
with
Shaikh Musleh Khan
•
Tajweed for Beginners
with Julie Lowe
Plus continuing classes in Arabic language, youth classes, and more!
If you don't receive e-mail confirmation shortly after registration, please check your junk/spam folder.
---
Touchdown on Faith:
Feb. 2, 6-7:30 pm
Busy life? Days are flying away? Are you losing out on something essential while running in this rat race called life?
Let's pause together, reflect and touchdown on our faith.
Join the IIT Youth Council for an interactive youth hangout with the inspirational Hamza Abdullah. Admission is free. All ages are welcome; however, the event is specifically designed for students and young professionals. →
Get details
---
IIT Ball Hockey League Awards Banquet - tickets now on sale
All our awards will be given out at IIT when the season is over on Saturday April 28 at our first-ever Hockey Awards Banquet. Dress up and come join us for this celebration of excellence!
Dinner is
FREE
for all players, volunteers and children under 6. Family and friends, tickets are $10 each and will be on sale every Friday night at IIT.
E-mail Khalid
or call him at 416-894-5758 to reserve your tickets now. See
flyer
for all the details.
NEW PLAYERS:
If you're new, of any skill level, 6-16 years old, and want to be contacted as soon as registration begins in August, please
e-mail Khalid
or call him at 416-894-5758 to get added to the contact list.
---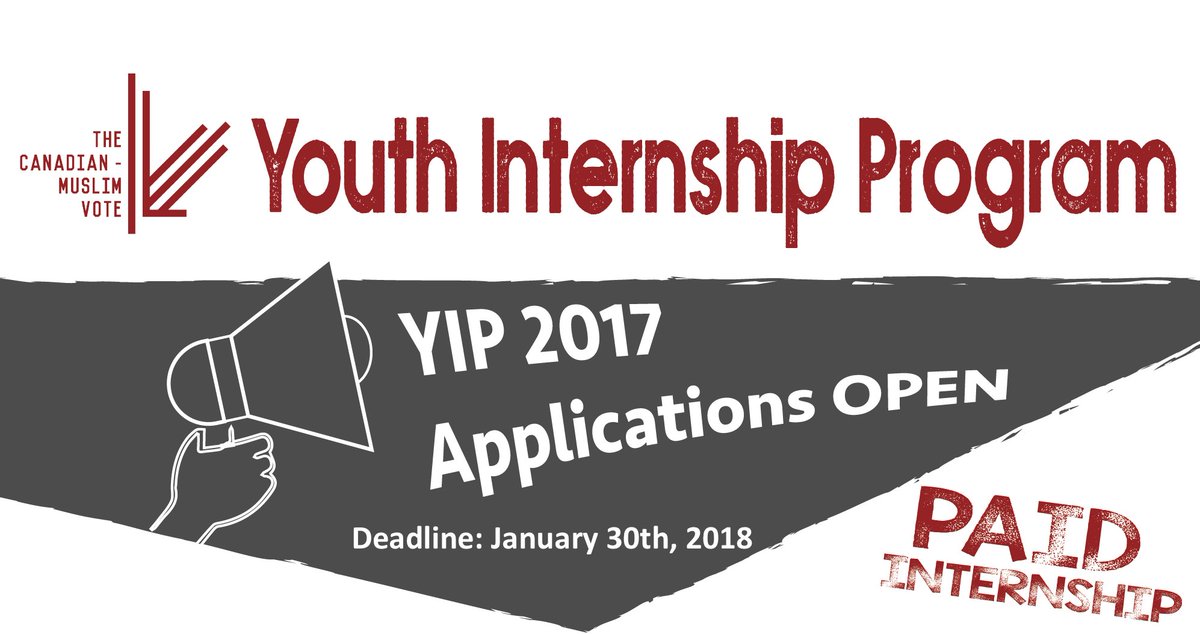 Introducing the Youth Internship Program
The Youth Internship Program is a paid political internship specifically designed to offer Canadian Muslim post-secondary students the opportunity to build professional and political experience, and gain skill and knowledge that will prepare them for future employment.
→
Get details & apply
---
Get job ready!
Finding your first job is often difficult!! Young people in Canada frequently encounter the 'No Experience, No Job' predicament where they may have an education and tremendous potential, but are often turned away by prospective employers due to a lack of work experience.
This initiative will teach you how to navigate the job market and develop the practical tools vital to securing employment.
---
Conservative party leadership advisor helped create anti-Islam organization
A senior member of Andrew Scheer's leadership team helped create an anti-Islam organization during his campaign to lead the Conservative Party. Now, that organization is holding events to protest anti-Islamophobia Motion 103 and is bringing together Canada's anti-Islam pundits and anti-Muslim groups.
Georganne Burke, the Scheer campaign's Outreach Chair, was involved in the founding of Canadian Citizens for Charter Rights and Freedoms (C3RF). The group warns that the Liberal government is criminalizing criticism of Islam and opening the door for a Sharia (Islamic) takeover of Canadian law. C3RF plans to hold events across the country to advocate against M103 and the Trudeau government.
Continued...
---
Volunteers make it happen!
For over two decades IIT has thrived as a result of the dedicated efforts of our many volunteers, a few of whom have returned to their Lord - may Allah have mercy on them.
From a fledgling institution in a rented space, IIT now occupies a prominent position in the landscape of Islamic communities in Canada. Alhamdulillah, we now have one of the largest and most active institutions in Canada, providing education and other services to a wide cross section of Canadian society.
Much of our success was a direct result of the passion, time, effort and energy of our volunteers.
From governance to day to day operations, our volunteers have built the foundations for a fully functional organization. Working in close collaboration with our scholars, employees and partners we have set the stage for a positive transformation in our society.
It is impossible to name each volunteer who has contributed to our work. They know themselves.
From young kids providing babysitting services, to retirees preparing the venue for Jumuah; from professional engineers and electricians to families cooking and preparing for events like Ramadan Iftaars and breakfasts; from managing major building projects to complex union negotiations; from lawn maintenance to computer network monitoring; from Scout Leaders to Syrian Refugee advocates; from summer camp organizers to seniors' programs; from instructors to curriculum planners; from venue set-up teams to website maintenance; from student fundraisers to parent supervisors - plus many more areas of participation - our volunteers make it happen!
Let's take a moment to acknowledge their hard work, their passion and their commitment.
May Allah grant them multiple rewards and include them among those who are near to Him on the day of reckoning.
---
His-story or Our-story?
Dr. Abdullah Hakim Quick's West Indies lecture receives positive reviews:
Having spent the last week with visiting historian, researcher and author, Dr Abdullah Hakim Quick, understanding the historical events that shaped our world is important in appreciating who we are, where we have come from and where we can go. Dr Quick made an important point during his lecture at the Cave Hill Campus last Thursday. He said we should understand 'our-story' rather than 'his-story'.
Continued...
---
Essentials of Living The Path - Tips For Living an Examined Life
(Shaikh Ahmad Kutty)
Reflecting the ethical and spiritual vision of Islam - a concise view of the Islamic belief and practices
---
Sign up for our newsletter
Stay in the loop! Sign up
for our
newsletter
for updates on all our programs & events, interesting news, and more!
---
Children's evening madrassa:
weekdays, 5:30 pm
A special children's evening class in Qur'anic recitation and Islamic studies. It runs for the entire school year and follows a standard school calendar. Teachers include Hafiz Hassan Mohamed, Ibrahim Farook and others, and is managed by Imam Kamruzzaman.
Children between the ages of 5-14 are eligible - $30 per month per child.
Registration done at IIT
---
Khutbah archive
For khutbah recordings & more, search for 'IIT' on iTunes and subscribe to our podcasts or visit iit.podbean.com
---
YouTube: we're regularly uploading new videos!
Visit our
YouTube channel
- subscribe and share our trailers & lectures with your friends and families.
Subscribe to our channel and receive notifications for new content!
---
Islamic counselling with IIT scholars
Shaikh Ahmad Kutty:
Tuesdays 10 am - 12 pm - preferably by appointment at
consultation@islam.ca
Shaikh Musleh Khan:
Tuesdays & Thursdays 4-7 pm - preferably by appointment at
consultation@islam.ca
Shaikh Abdool Hamid:
Mondays & Wednesdays 4-7 pm - preferably by appointment at
consultation@islam.ca
Dr. Abdullah Hakim Quick:
Tuesdays & Wednesdays 3-7 pm - preferably by appointment at
consultation@islam.ca
---
Confronting Islamophobia and racism
All praises are due to Allah, Lord of the worlds and may the peace and blessings of Allah be constantly showered upon our Beloved Prophet Muhammad forever.
As we move further into the 21st Century, the tensions and crises of the world are increasing by the day. Muslims, in the past, have always looked to the guidance of their Lord and the methodology of the Last Prophet Muhammad (pbuh) to bring light in the time of darkness.
Continued...
---
→ Sign-up today!
500 monthly donors
Let IIT be part of your income!
Yes, when you donate to IIT, you will be rewarded for it in the hereafter, and your wealth is purified in this world.
Be part of our 500 monthly donor drive - sign-up today
!
---
IIT Academy
The IIT Academy is a registered private school with the Ontario Ministry of Education, and offers the full Ontario curriculum (JK - grade 8), as well as Islamic Studies, Arabic Language, Qur'an Recitation and French.
---
Library
We are in the process of setting up a community library to be located on the south side of building, on the second floor. A reading room is attached to the library and can be accessed via sliding doors connecting the two spaces.
---
Donate now
Support the IIT's objective to promote Islamic knowledge through education and training
---
Campus Project
Booklet
•
Brochure
•
Poster