6 Toronto schools top Ontario elementary school rankings
The Fraser Institute has released its annual rankings on Ontario's elementary schools and six Toronto-area schools top the list, down from eight last year. The report card ranks more than 3,000 schools based on nine differing academic indications including the results of the EQAO tests, which including reading, writing and math.
There were 16 elementary schools that scored a perfect 10, including Toronto-based schools, Avondale Alternative, Havergal College and the Islamic Institute of Toronto.
Northmount, Sathya Sai and St. Sebastian also topped the list.
Continued...
---
Report Card on Ontario's Elementary Schools
Almost forty percent (40%) of schools that ranked a perfect 10 in the elementary division of Ontario schools ranked by the Fraser Institute are Islamic schools, including the
IIT Academy
and the Islamic Foundation School amongst others. Out of 16 schools that ranked 10, six are Islamic schools.
Although the EQAO is only one measure of a school's overall performance, it is an important one for benchmarking a school's progress in core academic disciplines.
Congratulations to our students, teachers, past and current principals and staff for an excellent performance.
Continued...
---
Hajj registration:
OPEN!
Act quickly if you wish to go
-
registration ends on April 1, or as soon as all spots are gone.
Program details | Registration form
---
Winter 2019 Semester
Alhamdulillah, our Winter 2019 Semester Courses are out! Register for one of our NEW or CONTINUING courses (or an on-demand course) in three simple steps:
1. Log-in/sign-up at
open-institute.thinkific.com
2. Click on any course for its details
3. Submit your info. (and payment if it's not a free course)
---
Friday night classes
Our Friday Night Family Program resumed Jan. 11 with children's classes (6 pm), Youth Class with Shaikh Abdool Hamid, and Adult Class with Dr. Abdullah Hakim Quick.
---
Final Exam & Projects Help Sessions:
Jan. 13, 20, 27
For high school students only:
If you will be writing final exams in January, then you are invited to join the IIT Youth Council for a series of Exam & Project help sessions on
January 13, 20, and 27 from 1-3 pm
.Support will be provided by senior youth in our community including recent graduates in the fields of engineering, sciences, arts, language and more!
Registration is not required
. Students must
complete the help session survey
, and are expected to bring any study/project tools (i.e. laptops, pens, pencils, erasers, etc.)
---
AskTheScholar.com
relaunched!
Alhamdulillah Shaikh Ahmad Kutty has served the Muslim community for almost half a century in various capacities as a Muslim Scholar. His website,
AskTheScholar.com
provides a forum for detailed answers and guidance to life's everyday issues. Check out its new look and share it with your friends and family.
A reliable source of answers to questions about living Islam.
---
Can I Remove Hijab for Safety Reasons?
Shaikh Ahmad Kutty
- If you have genuine reasons to fear for your safety, then you are allowed to remove hijab while wearing modestly as best as you can. It would be best if you make the judgment for yourself based on your moral conscience.
However, you are not allowed to remove Hijab if there is no real threat or fear. In other words, isolated incidents of harassment or mocking cannot justify your decision for removing Hijab.
Continued...
---
Three major issues of our times! with Sh. Abdullah Hakim Quick
Friday: Decoded!
Where we get behind the scenes of what the Friday Sermon is really about!
---
IIT Ball Hockey League: ALL STAR GAMES AND SKILLS COMPETITIONS
ALL STAR DAY: Saturday January 26, 5:45-10 PM:
It's a day where the players who had the best season are selected by their coaches to come out and compete in skills competitions and All Star games. We invite everyone not participating to come out and cheer for their friends and teammates and find out who has the hardest shot and whose shot is the most accurate. See how the best All Stars do against the coaches. Burgers will be on sale for spectators, so come hungry.
Sponsorship opportunity still available for League team shirts, All Star team shirts & Awards:
Sponsor the shirts for one of the two teams left, or for one of the All Star teams, and get your business name on the shirts as an ongoing advertisement for 5 years. Also find out how you can sponsor an award that will be presented at out Annual Awards Banquet in April. Please contact
Khalid
for all the details.
Feeling left out?
Get your name added now to our contact list for next year. Must be 6-16, any skill level. Beginners welcome.
Check out our new website at
iibhl.ca
for all the info you need about the league.
---
Can Muslims use recreational cannabis?
Shaikh Ahmad Kutty
- According to scientific studies, using marijuana is proven to be deleterious to mental and physical health. Since Islam is a religion that stresses preservation of life, mind, and health as priorities, a Muslim cannot resort to it, or condone its use as it would be akin to suicide and self-destruction... →
Continued...
---
Tafseer sessions:
2nd &amp 4th Sat. of the month, 6 pm
Join us for one of our flagship programs, where
Shaikh Abdool Hamid
discusses central concepts in the Qur'an. These sessions systematically explain the verses of the Holy Qur'an from the earliest sources.
---
Children's evening madrassa:
weekdays, 5:30 pm
A special children's evening class in Qur'anic recitation and Islamic studies. It runs for the entire school year and follows a standard school calendar. Teachers include Hafiz Hassan Mohamed, Ibrahim Farook and others, and is managed by Imam Kamruzzaman.
Children between the ages of 5-14 are eligible - $30 per month per child.
Registration done at IIT
---
Podcasts
Make sure you receive our lectures, videos, and audio interviews via our podcast: PC, Android, iOS
(or visit iit.podbean.com)
---
Your donation matters!
Where does the money go?
Check out our latest infographic
showing our expenditures and charitable distribution of Zakaat, Zakaatul Fitr and Sadaqa.
---
YouTube: we're regularly uploading new videos!
Visit our
YouTube channel
- subscribe and share our trailers & lectures with your friends and families.
Subscribe to our channel and receive notifications for new content!
---
Islamic counselling with IIT scholars
Shaikh Ahmad Kutty:
Tuesdays 10 am - 12 pm - preferably by appointment at
consultation@islam.ca
Shaikh Musleh Khan:
Tuesdays & Thursdays 4-7 pm - preferably by appointment at
consultation@islam.ca
Shaikh Abdool Hamid:
Mondays & Wednesdays 4-7 pm - preferably by appointment at
consultation@islam.ca
Dr. Abdullah Hakim Quick:
Tuesdays & Wednesdays 3-7 pm - preferably by appointment at
consultation@islam.ca
---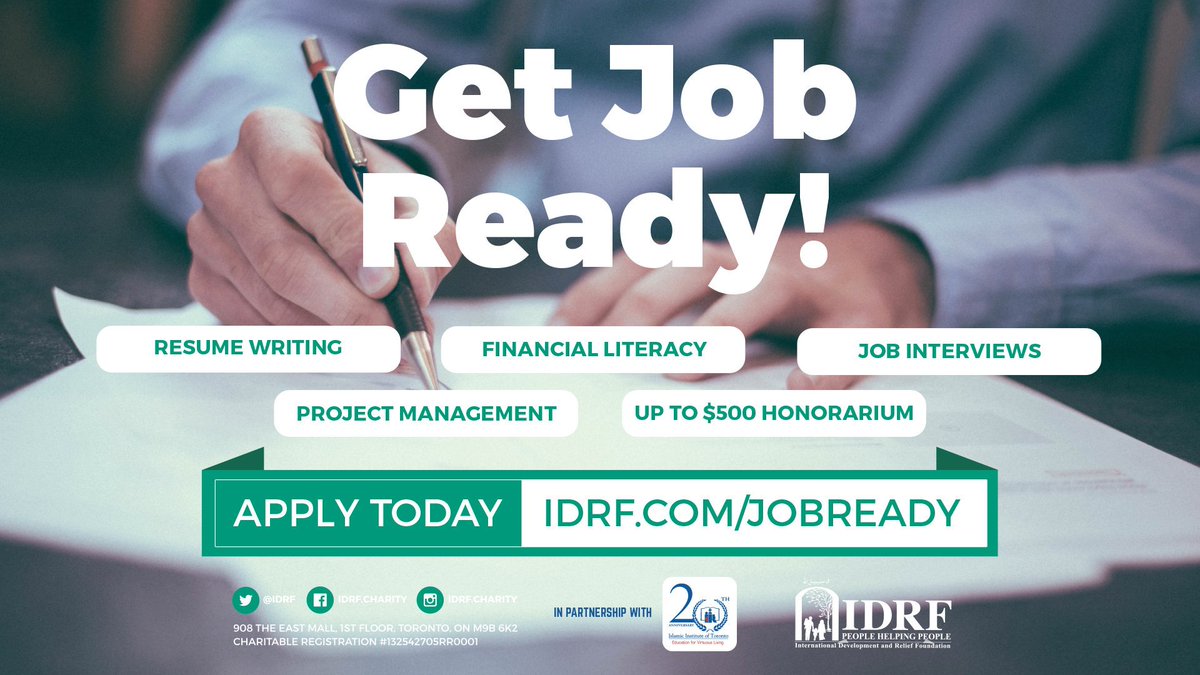 Get job ready!
Finding your first job is often difficult!! Young people in Canada frequently encounter the 'No Experience, No Job' predicament where they may have an education and tremendous potential, but are often turned away by prospective employers due to a lack of work experience.
This initiative will teach you how to navigate the job market and develop the practical tools vital to securing employment.
---
Essentials of Living The Path - Tips For Living an Examined Life
(Shaikh Ahmad Kutty)
Reflecting the ethical and spiritual vision of Islam - a concise view of the Islamic belief and practices
---
Confronting Islamophobia and racism
All praises are due to Allah, Lord of the worlds and may the peace and blessings of Allah be constantly showered upon our Beloved Prophet Muhammad forever.
As we move further into the 21st Century, the tensions and crises of the world are increasing by the day. Muslims, in the past, have always looked to the guidance of their Lord and the methodology of the Last Prophet Muhammad (pbuh) to bring light in the time of darkness.
Continued...
---
→ Sign-up today!
500 monthly donors
Let IIT be part of your income!
Yes, when you donate to IIT, you will be rewarded for it in the hereafter, and your wealth is purified in this world.
Be part of our 500 monthly donor drive - sign-up today
!
---
IIT Academy
The IIT Academy is a registered private school with the Ontario Ministry of Education, and offers the full Ontario curriculum (JK - grade 8), as well as Islamic Studies, Arabic Language, Qur'an Recitation and French.
---
Library
We are in the process of setting up a community library to be located on the south side of building, on the second floor. A reading room is attached to the library and can be accessed via sliding doors connecting the two spaces.
---
Donate now
Support the IIT's objective to promote Islamic knowledge through education and training
---
Campus Project
Booklet
•
Brochure
•
Poster