---
Thank you!
With your generous help, we have achieved our $300,000 target.

If you made a pledge, please fulfil it at your earliest convenience - jazaakallah!
---
Eid prayer:
June 25, 9 am
Khateeb: Shaikh Abdool Hamid
Please make wudu at home and
arrive early.
Parking available on:
both sides of Neilson Road; at Neilson Park; Finchdene & Torham behind IIT; and residential streets to the South East of Neilson & Finch -
no parking on Finch Avenue
.
Recite takbiraat on your way to and from the prayer (audio: mp3, text: PDF)
---
Donate
The Prophet (peace be upon him) was always generous, but
he was most generous during Ramadhan
-
we encourage you to give, and and reap the rewards in the hereafter!
→ HOW YOUR FUNDS ARE SPENT
---
Sign up for our newsletter
Stay in the loop! Sign up
for our
newsletter
for updates on all our programs & events, interesting news, and more!
---
Last days of Ramadhan
Qiyam-ul-Lail, 2 am - 3 am
Join us during the last ten nights for extra prayers in the early morning - led by Qari Abdul Fattah and Qari Walid.
Nights of Power Reminders - odd nights of Ramadhan
We are pleased to provide extra reminders from our scholars at 8:30 pm on the odd nights of Ramadhan from Jun. 15 onward.
---
Ramadhan Food Drive: Baby Week!
For the last week of Ramadhan, the focus of the Food Drive will be on baby items. There is especially an
urgent need for baby diapers (all sizes) and baby food/formula.
Items can be dropped off at the IIT during Ramadhan.
Spread the word, and invite others to this generous cause.
---
Beare Hill Park project meeting:
June 27, 6:30 pm
Plans are underway to develop the Beare Road Landfill site into a City of Toronto park.
Beare Hill Park
will be surrounded by the proposed Rouge National Urban Park and together, they will provide a seamless park-visiting experience.
The City of Toronto and Councillor Neethan Shan invite you to this meeting
(at the Malvern Community Recreation Centre, Community Room, 30 Sewells Road)
to: review the changes proposed; provide comments and input; and discuss next steps.
---
Summer camp:
Jul. 4 - Aug. 11
Six weeks of learning, fun & creativity! Register weekly or for all six weeks.
→
REFUND POLICY
---
Youth leadership camp:
Jul. 4 - Aug. 11
Youth Leadership Camp for 13-15 year olds!
Limited to 50 participants
.
→
See registration page for refund policy
---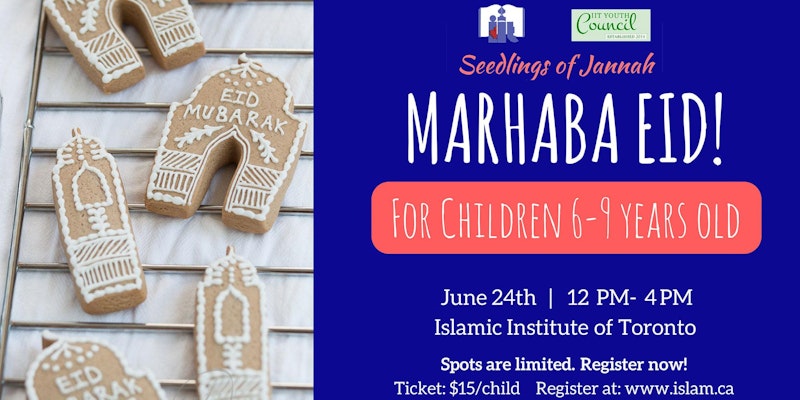 Marhaba Eid (sales ended):
June 24, 12 pm
Seedlings of Jannah will help your child (ages 6-9) discover the beauty of Eid through an inquiry hands-on based learning approach.
Marhaba Eid!
is a workshop designed by an experienced teacher to bring out your child's spiritual awareness as well as artistic, logical thinking and culinary skills.
---
Hajj group full
If you wish to join the waiting list, you must submit all registration material along with a refundable deposit
.
---
Essentials of Living The Path - Tips For Living an Examined Life
(Shaikh Ahmad Kutty)
Reflecting the ethical and spiritual vision of Islam - a concise view of the Islamic belief and practices
---
YouTube: we're regularly uploading new videos!
Visit our
YouTube channel
- subscribe and share our trailers & lectures with your friends and families.
Subscribe to our channel and receive notifications for new content!
---
Khutbah archive
For khutbah recordings & more, search for 'IIT' on iTunes and subscribe to our podcasts or visit iit.podbean.com
---
Islamic counselling with IIT scholars
Shaikh Ahmad Kutty:
Tuesdays 10 am - 12 pm - preferably by appointment at
consultation@islam.ca
Shaikh Musleh Khan:
Tuesdays & Thursdays 4-7 pm - preferably by appointment at
consultation@islam.ca
Shaikh Abdool Hamid:
Mondays & Wednesdays 4-7 pm - preferably by appointment at
consultation@islam.ca
Dr. Abdullah Hakim Quick:
Tuesdays & Wednesdays 3-7 pm - preferably by appointment at
consultation@islam.ca
---
Confronting Islamophobia and racism
All praises are due to Allah, Lord of the worlds and may the peace and blessings of Allah be constantly showered upon our Beloved Prophet Muhammad forever.
As we move further into the 21st Century, the tensions and crises of the world are increasing by the day. Muslims, in the past, have always looked to the guidance of their Lord and the methodology of the Last Prophet Muhammad (pbuh) to bring light in the time of darkness.
Continued...
---
IIT Ball Hockey league - get added now to our email list for September
NEW PLAYERS:
If you are aged 6-16 and would like me to contact you as soon as registration begins in August 2017, please contact me with the name and date of birth of the person who wants to play. Spots for new players are limited and go very fast so being contacted right from the start of registration gives you a good chance to get in.
RETURNING PLAYERS:
You are automatically contacted.
Send an
email to Khalid
with the requested information or call him at 416-894-5758.
---
Children's evening madrassa
Focusing on fluency & recitation of the Qur'an according to the rules of tajwid.
Registration done at IIT.
---
→ Sign-up on-line today!
500 monthly donors
Let IIT be part of your income!
Yes, when you donate to IIT, you will be rewarded for it in the hereafter, and your wealth is purified in this world.
Be part of our 500 monthly donor drive - sign-up on-line
or submit a void cheque to the IIT.
---
IIT Academy
The IIT Academy is a registered private school with the Ontario Ministry of Education, and offers the full Ontario curriculum (JK - grade 8), as well as Islamic Studies, Arabic Language, Qur'an Recitation and French.
---
Library
We are in the process of setting up a community library to be located on the south side of building, on the second floor. A reading room is attached to the library and can be accessed via sliding doors connecting the two spaces.
---
Donate now
Support the IIT's objective to promote Islamic knowledge through education and training
---
Campus Project
Booklet
•
Brochure
•
Poster
<! -- ##################################################################################################### -->