We're hiring
Fulltime French Teacher
-
(Application deadline: Dec. 29, 2018)
The IIT Academy is pleased to advertise for a full-time position, teaching French from Grades 1 - 8. This is an opportunity for an individual who has a passion for education and is willing to nurture young minds with values that are critical to the development of Islamic identity and civic responsibility. →
Get details & apply
---
Fatwa session with Shaikh Ahmad Kutty:
Dec. 11
General fatwa session
---
Winter dinner:
Dec. 25, 5 pm
Join us at the
Scarborough Convention Center
and hear Canadian author & activist
Dr. Monia Mazigh
speak about active citizenship.
Tickets: $40/adult, $15/child (4-12)
---
Start the new year with compassion and healing!
Starting off the new year with two major collaborative events:
Dec. 5:
Inspiring Muslim Minds with
Muslim Medical Association of Canada
Dec. 6:
Winter Relief Tour with
HCI Canada
and Shaikh Yahya Ibrahim
---
Start the new year with compassion and healing!
The Essence of Islamic Revival
-
with Dr. Abdullah Hakim Quick
Our final adult class for the Fall 2018 Friday Night Family Program will be taught by Shaikh Abdullah Hakim Quick, based on his translation and commentary of Sidi Ahmad Zarruq's Forty Hadith on Islamic Revival.
---
Three major issues of our times! with Sh. Abdullah Hakim Quick
Friday: Decoded!
Where we get behind the scenes of what the Friday Sermon is really about!
---
Sisters' Homemakers Group: celebrating over 20 years
IIT's Sisters' Homemakers Group celebrate over 20 years of getting together, learning and supporting each other. May Allah bless them all for their efforts!
Catch them on Tuesdays at 10 am.
→ Photo gallery
---
Inspired by the Prophet of Mercy (Stories and Reflections)
Shaikh Ahmad Kutty
- It is once again the time of the year to honor the memory of Prophet Muhammad (peace and blessings be upon him), whom Allah has sent as a mercy for the worlds.
While reflecting on his tradition of mercy, I cannot but recall the words attributed to the great Prophet Jesus (peace be upon him), in the Gospel of Mathew: "By their fruits, you will know them."
Continued...
---
Prophet Muhammad (s) and the Youth
Our resident scholar, Dr. Abdullah Hakim Quick was privileged with giving the opening address at a special conference entitled
'Prophet Muhammad (s) and the Youth'
this past week.
Photo gallery
---
Ask The Scholar - by Shaikh Ahmad Kutty
'Ask The Scholar' is being redesigned to make it more user-friendly
-
stay tuned for the relaunch!
A reliable source of answers to questions about living Islam.
---
Al-Wasatiyyah: The Just Balance: resumed Nov. 25
NOTE: This class runs from Nov. 25 - Dec. 9
, in three sessions.
This course will explore Wasatiyyah as the Way of Moderation in interpreting and implementing the Islamic code of conduct in our lives. It emanates from the Qur'anic concept: "Thus, we have made you a middle nation (or a nation justly balanced) so that you may be witnesses over mankind and the Messenger may be a witness over you".
---
Can Muslims use recreational cannabis?
Shaikh Ahmad Kutty
- According to scientific studies, using marijuana is proven to be deleterious to mental and physical health. Since Islam is a religion that stresses preservation of life, mind, and health as priorities, a Muslim cannot resort to it, or condone its use as it would be akin to suicide and self-destruction... →
Continued...
---
Tafseer sessions:
2nd &amp 4th Sat. of the month, 6 pm
Join us for one of our flagship programs, where
Shaikh Abdool Hamid
discusses central concepts in the Qur'an. These sessions systematically explain the verses of the Holy Qur'an from the earliest sources.
---
IIT Ball Hockey League: Week 13, sponsorship opportunity
Sponsorship opportunity still available for league team shirts, all star team shirts & awards:
Sponsor the shirts for one of the two teams left, or for one of the All Star teams, and get your business name on the shirts as an ongoing advertisement for 5 years. Also find out how you can sponsor an award that will be presented at our Annual Awards Banquet in April. Please contact
Khalid
or all the details.
---
Fall Semester
Our line up of courses -
new and continuing
are ready! New courses include:
Al-Wasatiyyah: The Just Balance with Sh. Ahmad Kutty
;
Introduction to Fiqh with Br. Mohamed Benaicha
;
Introduction to Reading and Writing Arabic with Br. Fawaaz Safeek
;
Tajweed for Beginners with Sr. Julie Lowe
and
Journey of Life with Dr. Abdullah Hakim Quick
. Plus continuing courses in
Vocabulary of the Qur'an
;
Sharia: What it is and what it's not
. We also have courses in
Book 2
and
Book 3
of the Madinah Arabic Course,
Advanced Tajweed with Qari Abdulfatah Jahedar
and
much more
!
We are also offering our
weekday evening madrassah for children
, our Friday Night Family Program, and the
Home-maker's Program for sisters
.
---
Children's evening madrassa:
weekdays, 5:30 pm
A special children's evening class in Qur'anic recitation and Islamic studies. It runs for the entire school year and follows a standard school calendar. Teachers include Hafiz Hassan Mohamed, Ibrahim Farook and others, and is managed by Imam Kamruzzaman.
Children between the ages of 5-14 are eligible - $30 per month per child.
Registration done at IIT
---
Podcasts
Make sure you receive our lectures, videos, and audio interviews via our podcast: PC, Android, iOS
(or visit iit.podbean.com)
---
Your donation matters!
Where does the money go?
Check out our latest infographic
showing our expenditures and charitable distribution of Zakaat, Zakaatul Fitr and Sadaqa.
---
YouTube: we're regularly uploading new videos!
Visit our
YouTube channel
- subscribe and share our trailers & lectures with your friends and families.
Subscribe to our channel and receive notifications for new content!
---
Islamic counselling with IIT scholars
Shaikh Ahmad Kutty:
Tuesdays 10 am - 12 pm - preferably by appointment at
consultation@islam.ca
Shaikh Musleh Khan:
Tuesdays & Thursdays 4-7 pm - preferably by appointment at
consultation@islam.ca
Shaikh Abdool Hamid:
Mondays & Wednesdays 4-7 pm - preferably by appointment at
consultation@islam.ca
Dr. Abdullah Hakim Quick:
Tuesdays & Wednesdays 3-7 pm - preferably by appointment at
consultation@islam.ca
---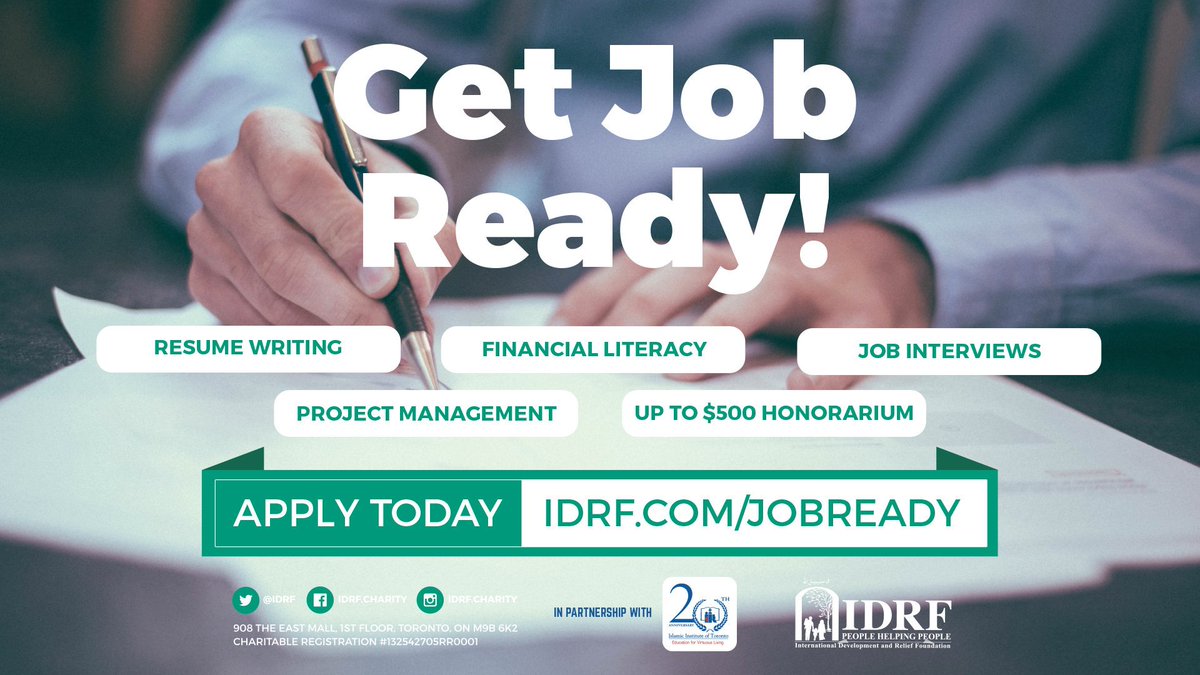 Get job ready!
Finding your first job is often difficult!! Young people in Canada frequently encounter the 'No Experience, No Job' predicament where they may have an education and tremendous potential, but are often turned away by prospective employers due to a lack of work experience.
This initiative will teach you how to navigate the job market and develop the practical tools vital to securing employment.
---
Essentials of Living The Path - Tips For Living an Examined Life
(Shaikh Ahmad Kutty)
Reflecting the ethical and spiritual vision of Islam - a concise view of the Islamic belief and practices
---
Confronting Islamophobia and racism
All praises are due to Allah, Lord of the worlds and may the peace and blessings of Allah be constantly showered upon our Beloved Prophet Muhammad forever.
As we move further into the 21st Century, the tensions and crises of the world are increasing by the day. Muslims, in the past, have always looked to the guidance of their Lord and the methodology of the Last Prophet Muhammad (pbuh) to bring light in the time of darkness.
Continued...
---
→ Sign-up today!
500 monthly donors
Let IIT be part of your income!
Yes, when you donate to IIT, you will be rewarded for it in the hereafter, and your wealth is purified in this world.
Be part of our 500 monthly donor drive - sign-up today
!
---
IIT Academy
The IIT Academy is a registered private school with the Ontario Ministry of Education, and offers the full Ontario curriculum (JK - grade 8), as well as Islamic Studies, Arabic Language, Qur'an Recitation and French.
---
Library
We are in the process of setting up a community library to be located on the south side of building, on the second floor. A reading room is attached to the library and can be accessed via sliding doors connecting the two spaces.
---
Donate now
Support the IIT's objective to promote Islamic knowledge through education and training
---
Campus Project
Booklet
•
Brochure
•
Poster