Volunteers needed!
We're teaming up with QED and SCF to provide English language intensive classes for Syrian Canadians.
We are looking for proficiency in English, a 16 week commitment, September-January, two hours per week, previous teaching/tutoring experience is an asset.
E-mail us if you can volunteer!
If you would like to volunteer, or participate, please complete the appropriate form: Volunteer form | Participant form
---
Keeping the spirit of Hajj alive!
My message to returning Hujjaaj - Keep the Spirit of Hajj Alive! At the Islamic Institute of Toronto (IIT) welcoming the Hujjaaj Dinner.
Narrated Abu Huraira that the Messenger of Allah said
"Whoever performs Hajj for the sake of Allah and does not utter any obscene speech or do any evil deed, will go back (free of sin) as his mother bore him."
→
Continued...
---
Fall Semester:
downloadable schedule & free class
Sep. 18:
Tonight's class "The Danger of Deception" is the first class in Dr. Abdullah Hakim's course
The Journey of Life
- and we're offering FREE ACCESS TODAY!! join us in class or online on
facebook
! Or
register
to unlock all details (recording, slides and quizzes) for this unique course!
---
Fall Semester:
classes have begun!
Our line up of courses -
new and continuing
are ready! New courses include:
Al-Wasatiyyah: The Just Balance with Sh. Ahmad Kutty
;
Introduction to Fiqh with Br. Mohamed Benaicha
;
Introduction to Reading and Writing Arabic with Br. Fawaaz Safeek
;
Tajweed for Beginners with Sr. Julie Lowe
and
Journey of Life with Dr. Abdullah Hakim Quick
. Plus continuing courses in
Vocabulary of the Qur'an
;
Sharia: What it is and what it's not
. We also have courses in
Book 2
and
Book 3
of the Madinah Arabic Course,
Advanced Tajweed with Qari Abdulfatah Jahedar
and
much more
!
We are also offering our
weekday evening madrassah for children
, our Friday Night Family Program, and the
Home-maker's Program for sisters
.
Message from Br. Fareed, Chairman Board of Directors: I would like to take this opportunity to welcome our new and returning students to our Fall Semester. Over the last twenty years, the IIT has been offering a variety of courses to enrich our understanding of this noble Deen and to provide us with the tools we need to be upstanding, contributing citizens of Canada. Our distinguished scholars are amongst the best on the continent - please join them as they explore issues associated with Fiqh, Akhlaaq, Arabic Language and the contemporary challenges associated with living in a post-modern, pluralistic society. A special shout out to many of our students who have enrolled with us on an ongoing basis.

---
Staying Connected - A Personal Note To Youth
By Shaikh Musleh Khan
- It's that time of the year again! From hot summer days to sleeping in and family outings, to back to school shopping, choosing classes and reconnecting with friends:
It's back to school!
For most of you, this means a complete readjustment in your daily routine. Appointments, work schedules, baby sitting all have to function around school schedules. On the other hand, students will be reintroduced to an environment where their faith is put to the test and the pressures of fitting in become overwhelming for them and for all of us. →
Continued...
---
Our New Year Resolutions
By Shaikh Ahmad Kutty
- Now, at the threshold of a new Islamic year, we may do well to form some resolutions. They say that all changes in society begin with our thoughts: thoughts which are translated into actions; and actions repeated over time form our character. Building sound character is the route toward betting a better society. →
Continued...
---
What Can We Learn from Hijrah?
By Shaikh Ahmad Kutty
- Hijrah is full of lessons for the believers as individuals and as a community. Before proceeding let me define the meaning of Hijrah: Hijrah has various shades of meaning such as forsaking, leaving, boycotting, emigrating, etc. As a term, it is used to refer to migrating to a safer place because of persecution to practice one's faith in peace. →
Continued...
---
Free RDSP Information Session:
Sep. 30, 2 - 5 pm
Information Session on RDSP Registered Disability Savings Plan
by DEEN Support Services. Are you or someone you know with a disability under the age of 50? Are you concerned about the financial needs for your child or loved one with disability? Learn how to maximise your savings through RDSP? Do you want to save and grow your money in a halal way?
Join us for an informative session with speaker: Br. Asad Ashraf, Investors Group.
Wheelchair accessible, attendants & Sign Language Interpreters available. Light refreshments provided.
---
Children's evening madrassa:
weekdays, 5:30 pm
A special children's evening class in Qur'anic recitation and Islamic studies. It runs for the entire school year and follows a standard school calendar. Teachers include Hafiz Hassan Mohamed, Ibrahim Farook and others, and is managed by Imam Kamruzzaman.
Children between the ages of 5-14 are eligible - $30 per month per child.
Registration done at IIT
---
IIT Ball Hockey League: One spot available in 12-16 age group
Players:
One spot has opened up in the 12-16 age group, any skill level. First come, first served by Friday. After Friday, no more players wlll be accepted.
Sponsorship opportunity still available for 3 team shirts:
Sponsor the new shirts for one of the 3 teams left and get your business name on the shirts as an ongoing advertisement for 5 years. Please contact
Khalid
to find out what else we will do for you if you sponsor us.
Check out our new website at
iibhl.ca
for all the info you need about the league.
---
Podcasts
Make sure you receive our lectures, videos, and audio interviews via our podcast: PC, Android, iOS
(or visit iit.podbean.com)
---
Your donation matters!
Where does the money go?
Check out our latest infographic
showing our expenditures and charitable distribution of Zakaat, Zakaatul Fitr and Sadaqa.
---
YouTube: we're regularly uploading new videos!
Visit our
YouTube channel
- subscribe and share our trailers & lectures with your friends and families.
Subscribe to our channel and receive notifications for new content!
---
Islamic counselling with IIT scholars
Shaikh Ahmad Kutty:
Tuesdays 10 am - 12 pm - preferably by appointment at
consultation@islam.ca
Shaikh Musleh Khan:
Tuesdays & Thursdays 4-7 pm - preferably by appointment at
consultation@islam.ca
Shaikh Abdool Hamid:
Mondays & Wednesdays 4-7 pm - preferably by appointment at
consultation@islam.ca
Dr. Abdullah Hakim Quick:
Tuesdays & Wednesdays 3-7 pm - preferably by appointment at
consultation@islam.ca
---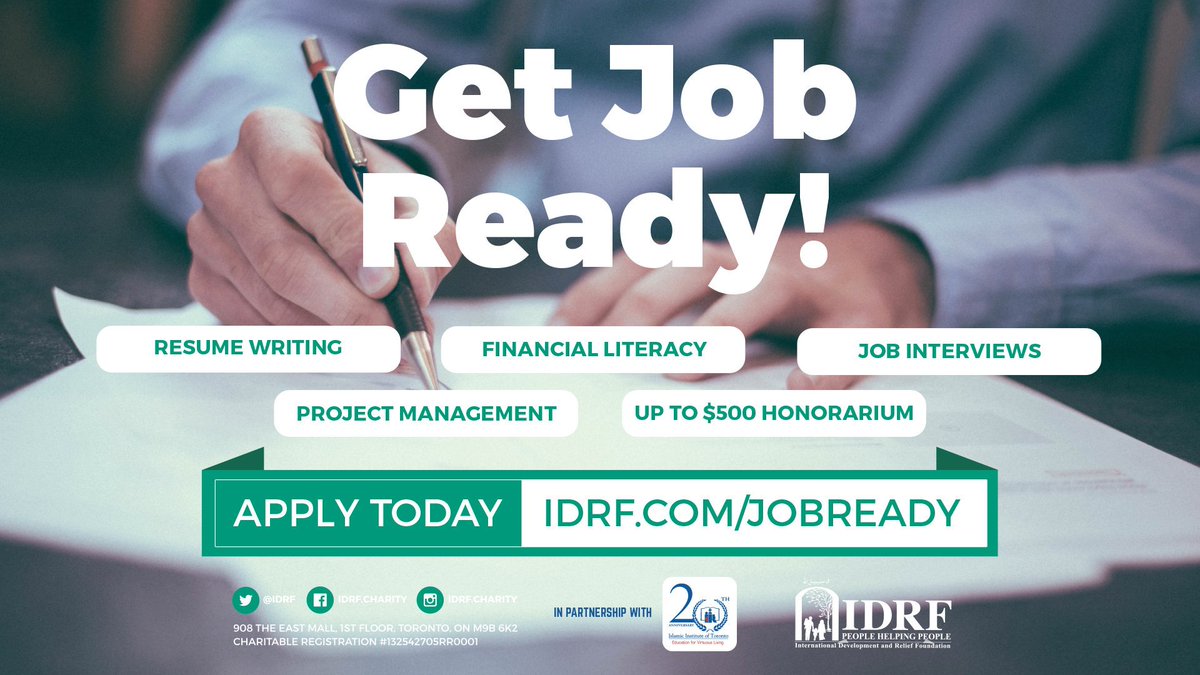 Get job ready!
Finding your first job is often difficult!! Young people in Canada frequently encounter the 'No Experience, No Job' predicament where they may have an education and tremendous potential, but are often turned away by prospective employers due to a lack of work experience.
This initiative will teach you how to navigate the job market and develop the practical tools vital to securing employment.
---
Essentials of Living The Path - Tips For Living an Examined Life
(Shaikh Ahmad Kutty)
Reflecting the ethical and spiritual vision of Islam - a concise view of the Islamic belief and practices
---
Confronting Islamophobia and racism
All praises are due to Allah, Lord of the worlds and may the peace and blessings of Allah be constantly showered upon our Beloved Prophet Muhammad forever.
As we move further into the 21st Century, the tensions and crises of the world are increasing by the day. Muslims, in the past, have always looked to the guidance of their Lord and the methodology of the Last Prophet Muhammad (pbuh) to bring light in the time of darkness.
Continued...
---
→ Sign-up today!
500 monthly donors
Let IIT be part of your income!
Yes, when you donate to IIT, you will be rewarded for it in the hereafter, and your wealth is purified in this world.
Be part of our 500 monthly donor drive - sign-up today
!
---
IIT Academy
The IIT Academy is a registered private school with the Ontario Ministry of Education, and offers the full Ontario curriculum (JK - grade 8), as well as Islamic Studies, Arabic Language, Qur'an Recitation and French.
---
Library
We are in the process of setting up a community library to be located on the south side of building, on the second floor. A reading room is attached to the library and can be accessed via sliding doors connecting the two spaces.
---
Donate now
Support the IIT's objective to promote Islamic knowledge through education and training
---
Campus Project
Booklet
•
Brochure
•
Poster