Ramadhan mubarak!
Ramadhan 1: May 16
as per the
Fiqh Council of North America
.
Eid ul-fitr: Friday, June 15
We have programs planned throughout the month:
Lecture & Iftar
; Qiyam-ul-lail; Khatam-al-Qur'an; and more!
(with ASL services)
→ Get details
---
Lecture & iftar:
Saturdays, 1 hour before maghrib

(Please arrive by 8 pm) These lectures will be streamed live on facebook, one hour before iftar May 19: Shaikh Abdullah Hakim Quick
The Conscious Muslim

May 26: Shaikh Ahmad Kutty
The Repentant Muslim

June 2: Shaikh Musleh Khan
The Victorious Muslim

June 9: Shaikh Abdool Hamid
The Ideal Muslim

---
We're hiring: summer camp jobs!
Several positions are available - please review the
job descriptions
, and
apply for the position(s) you're interested in on-line
,
before May 30
.
Successful applicants will be required to commit for 7 or 8 continuous weeks from June 25
, until the end of the camp. →
Get details & apply
---
Youth Hangouts - Legacy of Giants:
May 26 & June 2, 7 pm
Join us for our special Ramadhan youth hangouts as we learn about the lives of select Sahaba and their legacy.
The session on May 26 will be led by Shaikh Abdool Hamid and the one on June 2 will be led by Shaikh Musleh Khan.
Both sessions will include an anonymous Q & A segment on challenges and opportunities facing youth in the West.
Questions can be submitted anonymously at bit.ly/youthhangout
---
Iftar-beque:
May 27, 8 pm
IIT Youth Council invites students and young professionals to our first ever "Iftar-beque"! An opportunity to socialize and reflect over good food through good conversations. Register ASAP as registration closes on May 24!
The youth iftar will include special talks by sister Aisha Khaja and Ustadh Omar Patel on what it means to live a good life, and lessons we can draw from the life of the Prophet Muhammad (peace be upon him).
→
Get details & register
---
Podcasts
This Ramadhan, make sure you receive our lectures, videos, and audio interviews via our podcast: PC, Android, iOS
(or visit iit.podbean.com)
---
Summer camp:
Jul. 3 - Aug. 10
Six weeks of learning, fun & creativity!
→
Registration, job applications, program details & cost will all be posted at the end of May!
---
IIT Ball Hockey League - Accepting new players for upcoming 2018-2019 season
NEW PLAYERS:
The new season goes from September 2018 to March 2019 and we play on Friday nights. We accept boys of
all
skill levels, aged 6-16 years, but space for new players is limited. So if you want to be contacted as soon as registration begins in August for your best chance to get in, please
e-mail Khalid
or call him at 416-894-5758 now to get added to the contact list.
SPONSORS:
Please note that the IIBHL is a totally non-profit community league run entirely by volunteers. If you would like to sponsor us or donate, please
e-mail Khalid
or call him at 416-894-5758.
---
Conservatives will recognize Jerusalem as Israel's capital if elected
Conservative Leader Andrew Scheer says if his party forms government in 2019, it will follow Trump's lead and recognize Jerusalem as the capital of Israel.
Scheer's declaration comes in the form of a pledge posted to the Conservative party website designed to gather signatures from members of the public.
"Canada's Conservatives led by Andrew Scheer will recognize Jerusalem as Israel's capital when we form government in 2019," the pledge says, describing the party as "a strong voice for Israel and the Canadian Jewish community."
Continued...
---
Conservative advisor helped create anti-Islam organization
A senior member of Andrew Scheer's leadership team helped create an anti-Islam organization during his campaign to lead the Conservative Party. Now, that organization is holding events to protest anti-Islamophobia Motion 103 and is bringing together Canada's anti-Islam pundits and anti-Muslim groups.
Georganne Burke, the Scheer campaign's Outreach Chair, was involved in the founding of Canadian Citizens for Charter Rights and Freedoms (C3RF). The group warns that the Liberal government is criminalizing criticism of Islam and opening the door for a Sharia (Islamic) takeover of Canadian law. C3RF plans to hold events across the country to advocate against M103 and the Trudeau government.
Continued...
---
Children's evening madrassa:
weekdays, 5:30 pm
A special children's evening class in Qur'anic recitation and Islamic studies. It runs for the entire school year and follows a standard school calendar. Teachers include Hafiz Hassan Mohamed, Ibrahim Farook and others, and is managed by Imam Kamruzzaman.
Children between the ages of 5-14 are eligible - $30 per month per child.
Registration done at IIT
---
YouTube: we're regularly uploading new videos!
Visit our
YouTube channel
- subscribe and share our trailers & lectures with your friends and families.
Subscribe to our channel and receive notifications for new content!
---
Islamic counselling with IIT scholars
Shaikh Ahmad Kutty:
Tuesdays 10 am - 12 pm - preferably by appointment at
consultation@islam.ca
Shaikh Musleh Khan:
Tuesdays & Thursdays 4-7 pm - preferably by appointment at
consultation@islam.ca
Shaikh Abdool Hamid:
Mondays & Wednesdays 4-7 pm - preferably by appointment at
consultation@islam.ca
Dr. Abdullah Hakim Quick:
Tuesdays & Wednesdays 3-7 pm - preferably by appointment at
consultation@islam.ca
---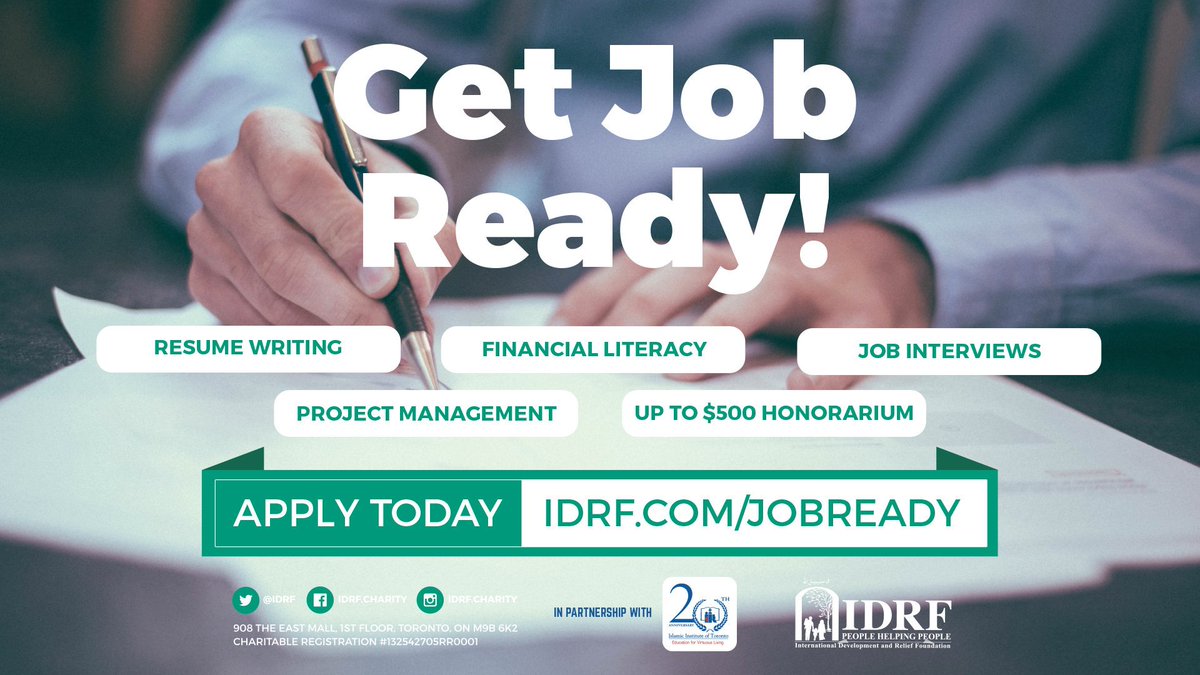 Get job ready!
Finding your first job is often difficult!! Young people in Canada frequently encounter the 'No Experience, No Job' predicament where they may have an education and tremendous potential, but are often turned away by prospective employers due to a lack of work experience.
This initiative will teach you how to navigate the job market and develop the practical tools vital to securing employment.
---
Essentials of Living The Path - Tips For Living an Examined Life
(Shaikh Ahmad Kutty)
Reflecting the ethical and spiritual vision of Islam - a concise view of the Islamic belief and practices
---
Confronting Islamophobia and racism
All praises are due to Allah, Lord of the worlds and may the peace and blessings of Allah be constantly showered upon our Beloved Prophet Muhammad forever.
As we move further into the 21st Century, the tensions and crises of the world are increasing by the day. Muslims, in the past, have always looked to the guidance of their Lord and the methodology of the Last Prophet Muhammad (pbuh) to bring light in the time of darkness.
Continued...
---
→ Sign-up today!
500 monthly donors
Let IIT be part of your income!
Yes, when you donate to IIT, you will be rewarded for it in the hereafter, and your wealth is purified in this world.
Be part of our 500 monthly donor drive - sign-up today
!
---
IIT Academy
The IIT Academy is a registered private school with the Ontario Ministry of Education, and offers the full Ontario curriculum (JK - grade 8), as well as Islamic Studies, Arabic Language, Qur'an Recitation and French.
---
Library
We are in the process of setting up a community library to be located on the south side of building, on the second floor. A reading room is attached to the library and can be accessed via sliding doors connecting the two spaces.
---
Donate now
Support the IIT's objective to promote Islamic knowledge through education and training
---
Campus Project
Booklet
•
Brochure
•
Poster