Eid prayer:
Aug. 21, 8 am
Khateeb: Shaikh Abdool Hamid
Prayer will be outdoors -
please dress according to the weather, and bring: prayer mats, umbrella, and sunglasses.
Please make wudu at home, arrive early, and consider car pooling with family and friends.
Parking
available on both sides of Neilson Road, at the
Scarborough Convention Centre
, and Neilson Park (just south of Neilson & Finch) -
no parking on Finch Avenue.
Review the etiquette of Eid
, and recite takbiraat on your way to and from the prayer
(audio: mp3, text: PDF)
Aug. 20 is the Day of Arafah
, the main day of Hajj. Fasting is recommended on this day for those who are not performing the Hajj.
Please consult the resources below for more on the first ten days of Dhul Hijjah, and recommended practices for the Day of Arafat and Eid al-Adha.
•
How to Keep the Lessons of Hajj?
-
Shaikh Ahmad Kutty
•
Tips to Derive Optimal Benefits From Hajj
-
Shaikh Ahmad Kutty
Call for volunteers: Eid planning meeting - Aug. 16, 7 pm

---
Kerala Flood Relief
At least 324 people have been killed in flooding in the southern Indian state of Kerala in what local officials say is the worst flooding in 100 years. India's monsoon season started in June, but the death toll in Kerala has soared in the past 24 hours. Rescuers are battling torrential rains to save residents, with more than 200,000 people left homeless in camps.
→
Donate now
---
MuslimFest 2018:
Aug. 31 - Sep. 2
MuslimFest is celebrating 15 years of best in Muslim art, cultural and entertainment invites you to the Mississauga Celebration Square on August 31, September 1 & 2. Featuring Harris J, Humood AlKhudeer, Azhar Usman, Jeremy McLellan, Amal Kassir, Dawud Wharnsby, Taimur Junaid Jamshed, Yahya Hawwa, Amjad Hussain and more. Come with family & friends to enjoy Quran recitation comedy, Islamic songs, spoken word, films, art exhibit, creative workshops, fun village, and multicultural food and bazaar.
FREE Admission! →
Visit MuslimFest.com to learn more
---
First 10 Days of Dhul Hijjah - Why Are They the Greatest?
Goodness and having a good life is simply being able to be happy, settled, tranquil, and not full of anxiety, fear and worry. What Allah tells us in the Quran is:
"... by the remembrance of Allah hearts are assured (13:28)."
→
Continued...
---
Fasting the first nine days of Dhul-Hijjah is recommended
The first 10 days of Dhul-Hijjah are an opportunity for every Muslim to gain abundant reward. The rewards of the good deeds performed during these specific days are maximized as reported by Prophet Muhammad (peace and blessings be upon him). →
Continued...
---
Responding to the Precious Call of Hajj
When Prophet Abraham (peace be upon him) completed the building of the Ka`bah, Almighty Allah commanded him to call people to Hajj. Prophet Abraham pleaded, "O Allah, how shall my voice reach all humankind?" Almighty Allah told him that his duty was only to make the call and that it was up to Allah to make it heard by people. →
Continued...
---
Heading for Hajj?
These guides have been produced to provide facts and details on major landmarks in Makkah, Madinah and surrounding areas. They are intended to help Muslims gain more awareness on the history and significance behind these places, particularly for those embarking on Hajj or Umrah. →
Continued...
---
We're hiring
Elementary French and Arabic Teacher
-
(Application deadline: August 20, 2018)
TThe IIT Academy is pleased to advertise for a full-time teaching position at its elementary Islamic school in Toronto, Ontario. This is an opportunity to teach French from JK to Grade 3. This is an opportunity for an individual who has a passion for education and is willing to nurture young minds with values that are critical to the development of Islamic identity and civic responsibility. →
Get details & apply
---
IIT Ball Hockey League new season: Registration week 4 - Some spots left
Returning players:
Your protected spots are gone. Remaining spaces are first-come first-served.
New players:
No more waiting list. If you are 6-16 of any skill level, sign up right away to get one of the remaining spots.
Sponsors:
Looking for sponsors for our awards, equipment and t-shirts. Please contact
Khalid
to find out how you can contribute, and about our incentives to you.
To register:
Download the
Registration Form
, print it, fill it out and email to
Khalid
without hesitation to avoid disappointment. Download and read the
Code of Conduct
before signing the Registration Form.
---
Fall Semester begins Sep. 9
We are excited to announce that we have our line up of courses (new and continuing) almost ready to roll out! New courses include an On Demand Course on Introduction to Fiqh with Br. Mohamed Benaicha; Learn to Read and Write Arabic with Br. Fawaaz Safeek; Beginner's Tajweed with Sr. Julie Lowe and Journey of Life with Dr. Abdullah Hakim Quick. Plus continuing courses in Vocabulary of the Qur'an; Journey Through the Qur'an; Sharia: What it is and what it's not. We also have courses in Book 2 and Book 3 of the Madinah Arabic Course and Tajweed Courses with Qari Abdulfatah Jahedar!
We are also offering our weekday evening madrassah for children and our Friday Night Family Program, plus a Homemakers Program for sisters.
Stay tuned for details!
---
Children's evening madrassa:
weekdays, 5:30 pm
A special children's evening class in Qur'anic recitation and Islamic studies. It runs for the entire school year and follows a standard school calendar. Teachers include Hafiz Hassan Mohamed, Ibrahim Farook and others, and is managed by Imam Kamruzzaman.
Children between the ages of 5-14 are eligible - $30 per month per child.
Registration done at IIT
---
---
Podcasts
Make sure you receive our lectures, videos, and audio interviews via our podcast: PC, Android, iOS
(or visit iit.podbean.com)
---
Your donation matters!
Where does the money go?
Check out our latest infographic
showing our expenditures and charitable distribution of Zakaat, Zakaatul Fitr and Sadaqa.
---
YouTube: we're regularly uploading new videos!
Visit our
YouTube channel
- subscribe and share our trailers & lectures with your friends and families.
Subscribe to our channel and receive notifications for new content!
---
Islamic counselling with IIT scholars
Shaikh Ahmad Kutty:
Tuesdays 10 am - 12 pm - preferably by appointment at
consultation@islam.ca
Shaikh Musleh Khan:
Tuesdays & Thursdays 4-7 pm - preferably by appointment at
consultation@islam.ca
Shaikh Abdool Hamid:
Mondays & Wednesdays 4-7 pm - preferably by appointment at
consultation@islam.ca
Dr. Abdullah Hakim Quick:
Tuesdays & Wednesdays 3-7 pm - preferably by appointment at
consultation@islam.ca
---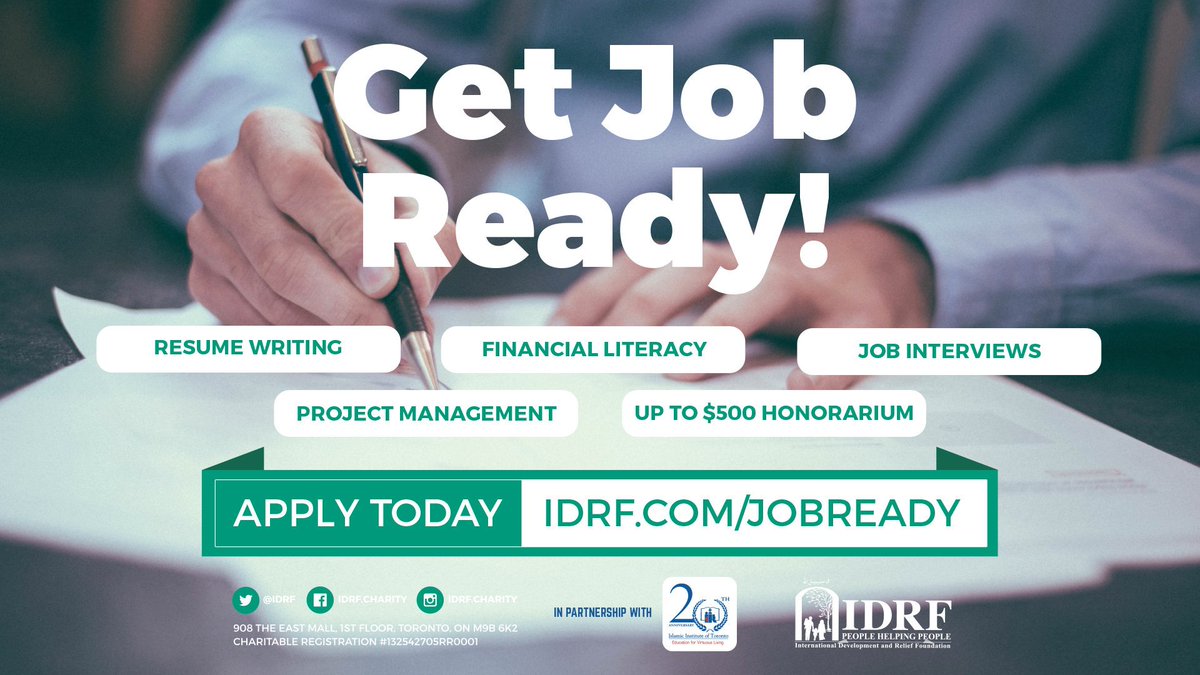 Get job ready!
Finding your first job is often difficult!! Young people in Canada frequently encounter the 'No Experience, No Job' predicament where they may have an education and tremendous potential, but are often turned away by prospective employers due to a lack of work experience.
This initiative will teach you how to navigate the job market and develop the practical tools vital to securing employment.
---
Essentials of Living The Path - Tips For Living an Examined Life
(Shaikh Ahmad Kutty)
Reflecting the ethical and spiritual vision of Islam - a concise view of the Islamic belief and practices
---
Confronting Islamophobia and racism
All praises are due to Allah, Lord of the worlds and may the peace and blessings of Allah be constantly showered upon our Beloved Prophet Muhammad forever.
As we move further into the 21st Century, the tensions and crises of the world are increasing by the day. Muslims, in the past, have always looked to the guidance of their Lord and the methodology of the Last Prophet Muhammad (pbuh) to bring light in the time of darkness.
Continued...
---
→ Sign-up today!
500 monthly donors
Let IIT be part of your income!
Yes, when you donate to IIT, you will be rewarded for it in the hereafter, and your wealth is purified in this world.
Be part of our 500 monthly donor drive - sign-up today
!
---
IIT Academy
The IIT Academy is a registered private school with the Ontario Ministry of Education, and offers the full Ontario curriculum (JK - grade 8), as well as Islamic Studies, Arabic Language, Qur'an Recitation and French.
---
Library
We are in the process of setting up a community library to be located on the south side of building, on the second floor. A reading room is attached to the library and can be accessed via sliding doors connecting the two spaces.
---
Donate now
Support the IIT's objective to promote Islamic knowledge through education and training
---
Campus Project
Booklet
•
Brochure
•
Poster